Asia Perspectives - India - Light at the end of the tunnel
India's economy is turning the corner as reopening accelerates. Pent-up demand will pivot to-wards consumer discretionary spending
We are neutral on Indian equities for now due to stretched valuations. However, we want to position for structural growth associated with India's digital economy and smart manufacturing
Given improving credit fundamentals amid India's post-pandemic recovery, we seek carry opportunities in selected Indian hard currency corporate credit
In an environment of USD strength on the Fed's tapering, we expect USD-INR to trend towards 75.5 by end-2021
India's macro tailwind intact
India's short-run growth outlook is gaining economic momentum. The pace of vaccinations has increased with over 50 per cent of the population likely to be fully vaccinated by end-2021.
India's economy is gradually turning the corner since the last wave of the delta-variant. The good news is that improving business sentiments will propel growth in the months ahead. As reopening continues, pent-up goods demand is going to pivot towards pent-up services demand. There are tentative signs of this showing up in the recent PMI print, with services PMI rising faster than goods PMI (Chart 1: India Manufacturing and Service PMI).
Additionally, strong export demand and government spending can be the key drivers of growth going into 2022. Higher-than-expected tax revenues and lower-than-budgeted expenditure have given the government more fiscal ammunition. We expect India's GDP to grow by 8.4 per cent in FY22, lower than the consensus expectation of 9.1 per cent . Thereafter, GDP is expected to grow at 6.4 per cent in FY23 and 6 per cent in FY24.
This healthy growth outlook is underpinned by benign monetary conditions and low real rates resulting from substantial inward capital flows seeking to participate in India's long-term growth story.
Chart 1: India Manufacturing and Service PMI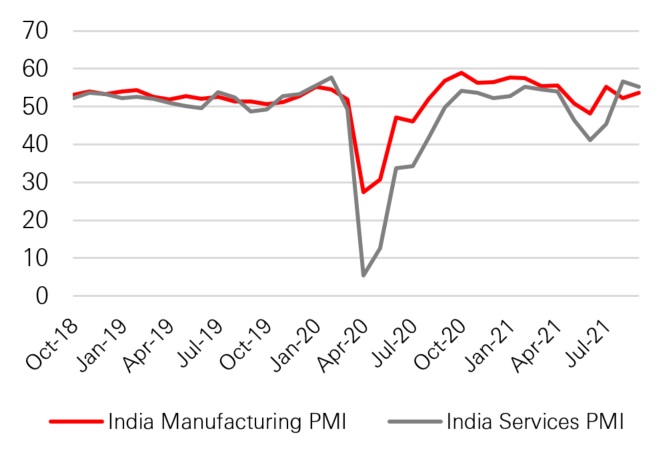 Note: Data updated as at End-October 2021.
Source: Bloomberg, HSBC Global Private Banking as at 26 October 2021. Past performance is not a reliable indicator of future performance.
Selective India Bonds as a carry opportunity
Selective India bonds can be considered as a source of carry for investors looking for income. Fundamentally, Moody's revised its outlook in early October due to decreasing risks posed by the financial sector to the overall economy. With higher capital cushions and greater liquidity, banks and non-bank financial institutions pose a much lesser risk.
Given improving credit fundamentals amid India's post-pandemic recovery, we seek carry opportunities in selected Indian hard currency corporate credit. We recently upgraded our view on Indian hard currency bonds from mildly underweight to neutral.