Essence of Enterprise - A Day in the Life
Entrepreneurs put themselves under pressure to meet challenging growth goals. Many will sacrifice sleep and forsake friends and family to invest their creative capital into their business ventures.
A day in the life of the world's most successful entrepreneurs
But those who manage to strike the golden ratio – that elusive concept known as 'work-life' balance – are richly rewarded. And here, the world's most successful entrepreneurs are showing their peers how it's done.
Our research indicates that an impressive 83 per cent of high-net worth entrepreneurs globally believe they have achieved a comfortable division between their home and work lives. Ideal working hours are slightly longer than those of salaried professionals: 10 hours 6 minutes spent in the office, with seven hours and 12 minutes devoted to their personal priorities and slightly less than seven hours of sleep per night.
In Europe, 88 per cent agree they have a good work-life balance. Here, the typical working day closely mirrors the ideal at nine hours 24 minutes, although there is some variation by market. French entrepreneurs appear to be the most industrious, putting in 10 hours 36 minutes a day, while UK business owners have the shortest working hours globally (eight hours and 30 minutes).
At the office, Europeans concentrate more on internal operations than external activities. Administration typically demands one hour 48 minutes of their days – and two hours and 42 minutes in France – but nowhere globally are entrepreneurs able to expend less time on this daily than an hour. Staff management also takes up considerable time – particularly in Switzerland, despite having the smallest average firm size at 125 employees (the global average is 216).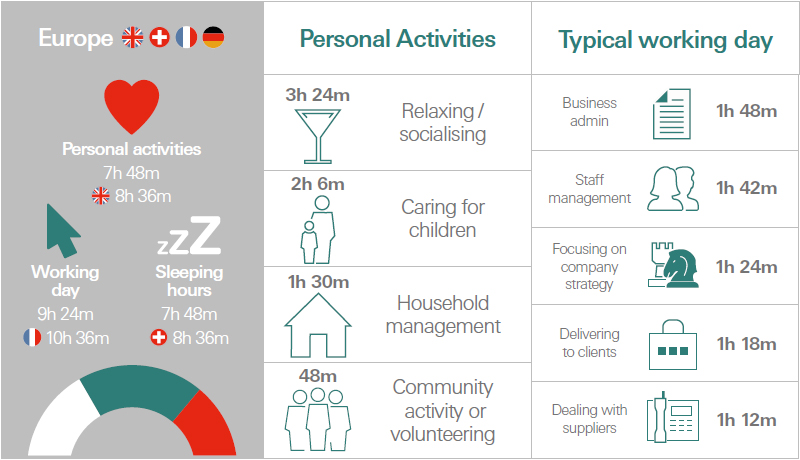 Once they get home, European business owners enjoy nearly three and a half hours of relaxing and socialising – more time to unwind than any other region. They also dedicate more time to childcare responsibilities than entrepreneurs in either Asia-Pacific or the Middle East, at just over two hours a day (this reaches two and a half hours for UK entrepreneurs).
The overall picture is similar in America: here, 86 per cent believe they have achieved work-life balance. They spend slightly less time socialising and sleeping than their European peers and their typical working days are about 30 minutes longer. Extra time in the office is to the benefit of business development, to which they dedicate over an hour each day.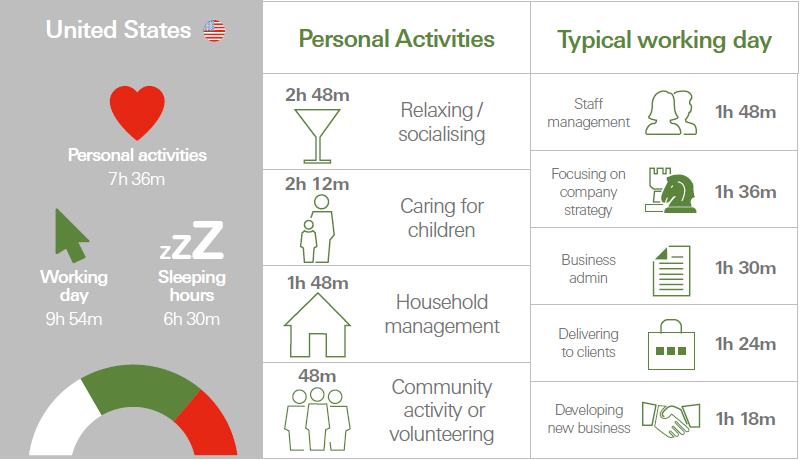 Moving to Asia-Pacific, and we find the concept of work-life balance is fluid. Entrepreneurs here are used to working long hours and the typical day at the office lasts 10 hours 30 minutes (it is longer still, at 11 hours 18 minutes, in Singapore). Yet, a high proportion (76 per cent) of entrepreneurs are happy with their choices.
Breaking with the trend is Mainland China, here entrepreneurs report a (shorter) 10 hour working day than the regional average; they sleep longer than anywhere else (seven hours and 24 minutes each night) and manage to find three hours 36 minutes a day to unwind – again, more than all their regional peers.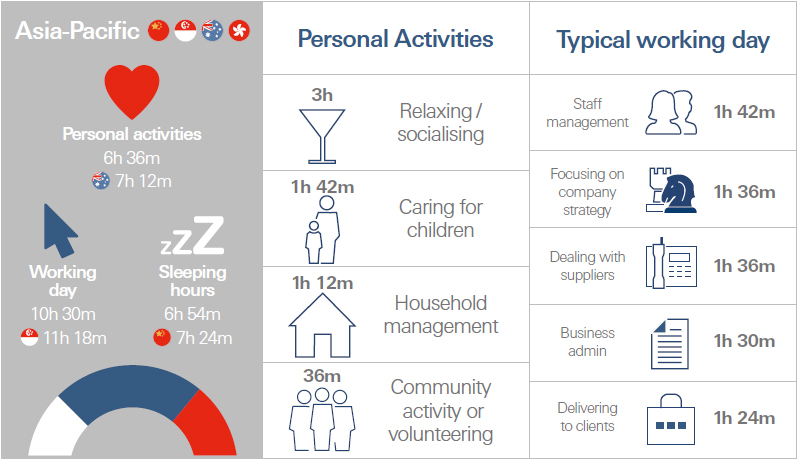 At the other end of the spectrum, entrepreneurs in the Middle East work longer hours than anywhere else – as many as twelve hours and 30 minutes a day – and sleep the least, at six hours and 18 minutes each night. Even still, 86 per cent believe they have achieved a good work-life balance.
Entrepreneurs in the Middle East enjoy some important advantages. They benefit from having the lightest childcare commitments and household management duties. As a result, they can spend at least an hour each day on community activities, more than the global average of 42 minutes.
In the United Arab Emirates, entrepreneurs dedicate an average of three hours every day to business administration – almost double the global average of one hour and 36 minutes. With workforces in Saudi Arabia up to 60 per cent bigger than the global average, staff management takes up a further two hours and 30 minutes daily. Longer working hours also mean entrepreneurs in the Middle East devote more time than anywhere else reflecting on company strategy (nearly two hours a day) and on business development (nearly an hour and a half).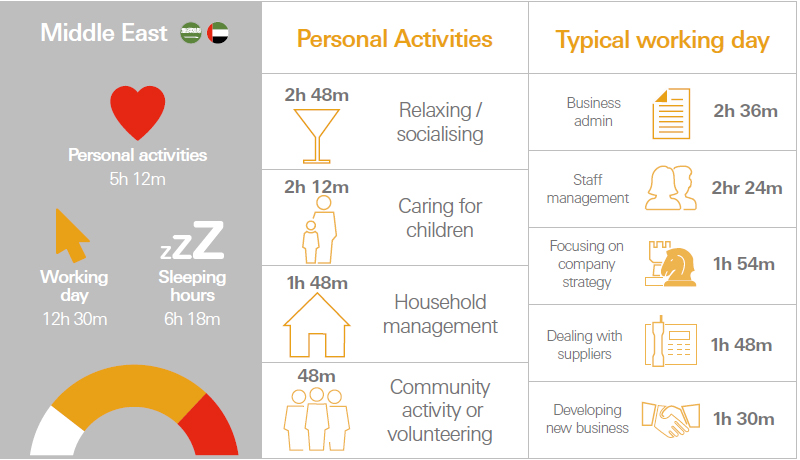 When you're building a business, it's a giant problem solving task with many moving parts and it's easy to get burnt out quickly. It's about pacing yourself. How do you gracefully go through the peaks and the downturns? Having that light mind-set really helps. Sylvia Yin, founder of Shoppr.
As the pace of daily life accelerates, the natural temptation is to respond by working longer and harder. But across the world, successful entrepreneurs who prioritise balance between home, work and self are showing us that there is another way.