How millennial entrepreneurs are changing the business world
Numerous studies have shown that the so-called millennial generation prioritises experience, work-life balance and social impact over wealth generation. What does that mean for the entrepreneurs of today and tomorrow?
The millennial entrepreneur is changing the face of the business world. Gone are the days where the focus was solely on financial gains – now, the newest generation of business owners is instead focusing on changing the world.
A shift in attitudes
According to the 2017 HSBC Essence of Enterprise report, millennial entrepreneurs have an entirely different motivation than the generations before them. Rather than focusing on profit, they are driven to create a better world and have a more positive social influence.
This is especially noticeable with 25 per cent of 20-something entrepreneurs wanting to have a positive impact on their communities. Comparatively, only 13 per cent of entrepreneurs in their 50s feel the same way.
Stuart Parkinson, Global Chief Investment Officer at HSBC Private Banking agrees: "We are increasingly seeing millennial entrepreneurs setting up businesses that balance financial returns with sustainability goals."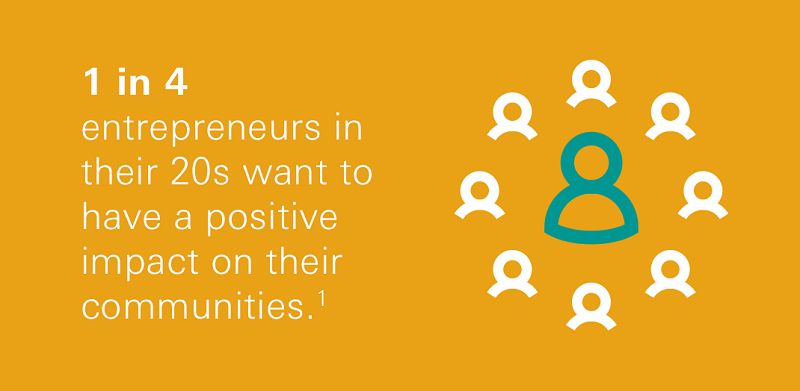 We are increasingly seeing millennial entrepreneurs setting up businesses that balance financial returns with sustainability goals.
'Not just about making money'
The word 'balance' is particularly important to understanding the motivations of this generation. This isn't about reigniting a hippy-style sharing or a form of communism; it's about seeing a gap in the market and delivering a product or service that fills that gap, whilst fulfilling yourself personally and not trampling over anyone else.
Guo Deying, founder of both Coolpad, one of China's largest smartphone companies and Springwood, which seeks to introduce agri-tech practices to China, explains: "It is not just about making money anymore. Entrepreneurship is all about discovering society's direction of development, identifying demands and aligning that with your personal interest."
The search for ethical and sustainable investment
Facing significant economic and potentially catastrophic environmental challenges, the millennial generation is highly focused on sustainability. In a global survey by Nielsen, nearly three-quarters of millennial respondents stated that they would be prepared to pay a premium for sustainable offerings.1 Brands that establish these green and ethical credentials can generate strong loyalty amongst millennial consumers.
Sharing these traits and values with their key audience, millennial entrepreneurs can genuinely tap into that market. Other more established brands are keen to follow, including investment management firms and pension funds. A report by Standard Life found that, alongside holding investment in more socially conscious funds, where accountability and transparency are key values, millennials are also referred to as digital natives, using apps, websites and social media to inform decision-making.2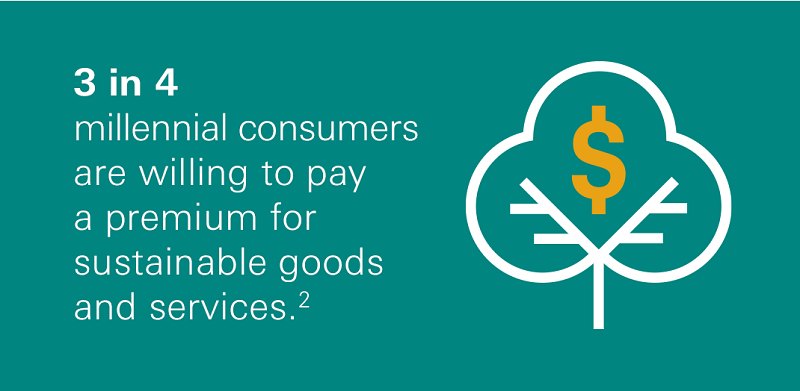 Is the millennial way economically sustainable?
The rise of sharing over ownership – evidenced by sharing of music, photos, books and so on – also crosses over in investment terms. It's perhaps no coincidence that the growth in crowdfunding has occurred at the same time the millennial generation is maturing and starting to look for investment opportunities.
Whether prioritising social change over profits builds long-lasting businesses, only time will tell. What we can say, based on our research, is that the millennial entrepreneur's focus on social purpose and sustainability will continue to be a significant trend as this generation grow older.
1 Green generation: Millennials say sustainability is a shopping priority, Nielsen, 2016↩
2 The rise of the millennials and the impact on values-based investing, Standard Life Investments, 2015↩