Mission and metrics: How purpose-driven entrepreneurs scale their businesses
Scaling up a business can be the most unpredictable and challenging stage of the entrepreneurial journey. Having proved that their concept is viable, business owners need to overcome growing pains, which can include meeting ambitious revenue targets, effective cost management and hiring the right talent, all the while preserving the company's culture and mission.
As companies scale up, it becomes critical to re-evaluate the mission in light of changing needs
Conversations with purpose-driven entrepreneurs who are successfully navigating this stage suggest that, day-to-day, purpose remains their 'north star'. The community of users or followers that they have cultivated in the start-up phase helps maintain mission focus and provides them with deep insight for product development.
Growth can come from changing how the business operates to achieve that vision. For example, some entrepreneurs will start to re-consider their offering in response to changes in their market.

Marie Schneegans is founder of Workwell, the office app that was created in 2015 to improve employee engagement and wellbeing at work. Since then, Marie says her mission has remained constant, but the product has evolved in response to the need for greater workplace connections.

"As we are a SaaS (Software as a Service) product, we license our software to companies globally and being global is aligned with our wish to make a positive impact on a big scale," says Marie. "Our mission – to make people happier and more connected – has stayed the same but through trial and error, we have evolved to meet our end users' needs. And this is a key to our success – we know how to listen."

Ada Yip, CEO of Urban Spring, a water refilling station company fighting single-use plastic in Hong Kong, agrees: "The charming thing about purpose-driven businesses is that until you're successful, the issue doesn't disappear. It's more about how you execute that vision."

The recent COVID-19 pandemic, for example, has made ongoing engagement with the community even more important for growth and innovation. Proprietary data from HSBC's Navigator 2020 research shows that, in light of evolving client needs, businesses are re-evaluating their offerings to make their missions more effective. For example, to develop resilience, a third are diversifying their product ranges, while 17 per cent are becoming more specialised.

"We introduced a foot pedal, so clients wouldn't have to touch a button to refill bottles," says Ada. "The customer wouldn't necessarily suggest that to us explicitly, but we listen to what the issue is and introduce our expertise to develop a solution that works. With COVID-19, we had to change the narrative to think about our communication and the concerns on people's minds…It's about listening to clients and responding to their needs."

Data can help amplify the story beyond the 'early adopters', broadening the client base

Because purpose-driven businesses tend to have clear visions, with messages and solutions that increasingly resonate with the masses – few argue against them. The greater challenge, however, lies in encouraging people to change their underlying behaviours.
"Few would disagree with our mission," says Ada. "The challenge is in committing people to do something. On social media, we publish how many millions of plastic bottles have been saved. All the water stations have a digital display that show the number of bottles that have been avoided. We use data and the Internet of Things to show people their individual and collective impact, and that collective achievement can be very powerful."

Such facts and figures move the conversation into the mainstream by demonstrating the tangible value of the business to the consumer. They can also powerfully illustrate the importance of broadening the movement, with impact amplified as more customers join the fold.

As companies grow and look for new investments, ESG data can help them find complementary and strategic partners aligned to their missions. According to HSBC Private banking's proprietary Essence of Enterprise data, most entrepreneurs track customer feedback and employee retention, but leaders with purpose tend to use additional measures that assess the positive impact of their businesses, such as ESG reporting, industry recognition awards and wider media coverage [Figure 1].

Figure 1: Purpose-driven entrepreneurs use a broader range of metrics to measure impact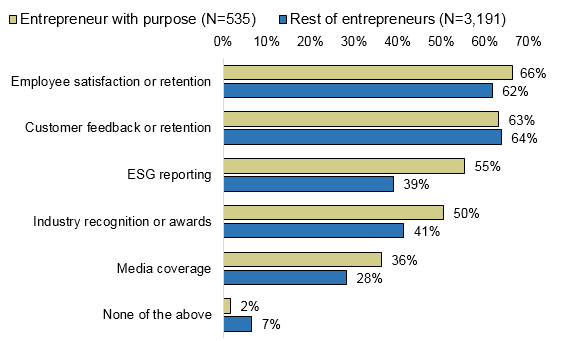 Q: Do you use any objective measures to assess the positive impact of your business?
Source: HSBC Private Banking, Essence of Enterprise
Ada works with clients to install water stations across their facilities, as well as monitor the water supply and quality, service the stations and produce reports for them, which can be included in their own internal reporting. From the commercial standpoint, Urban Spring equips clients with information (like how many plastic bottles have been avoided) that are positive for the environment and for clients, as they translate into cost savings.
"Fast forward five years, and we are starting to see change because of data," says Ada. "It has helped evolve the theme of sustainability from initially being more for 'hard core' green activists, to more of a lifestyle change, focused on personal wellness."

Hiring the right talent can help entrepreneurs overcome growing pains

Community is one part of what keeps a firm and its founders focused on the mission; the other is colleagues and company culture. "It is a challenge to find talent with the right experience and people who have the right motivations, who understand the mission and can continue to bring the right attitude to work every day and drive that mission forward," says Ada.
Entrepreneurship can also be lonely, so securing diverse talent is critical to business success. It goes beyond having the right skills and includes softer aspects, like their motivations, attitudes and working styles. For Marie, creativity stems from diversity of thought, which is why she has focused on nurturing a global team, with different experiences and backgrounds, since Workwell's inception.

Harper Reed, founder of Modest Inc, a software solutions firm, attributes much of his firm's success to its diverse colleagues: "One of my cheat codes [to growth] is to hire people from different cultural contexts, different backgrounds, ethnicities, ages, education levels. Figure out how to put them together because they can help patch up many weaknesses."

"As an entrepreneur, you are mostly alone when it comes to solving problems and making decisions, which is why it's important for me to be surrounded by good people," says Marie. "My team comes from so many different backgrounds; it's incredibly moving to see them come together to create something with a shared vision."

"We don't believe in fixed hierarchies or in having bosses within or outside of the teams. Instead, we rely on peer-based mutual commitments and ownership. So, when it comes to hiring, for example, I now know that sharing similar values is key for longevity."

Scaling a business is challenging as it compels entrepreneurs to juggle and reconcile many competing priorities. Those who are willing to listen and learn, however, will continue to evolve and broaden the appeal of their mission, growing their community and maximising impact.