Sparking innovation with impact
Among the ebbs and flows of running a business, an increasing number of entrepreneurs are choosing social impact over other factors as their top business priority.
Rather than prioritising areas that focus on family, employee responsibility or commercial factors – one in five entrepreneurs considers social responsibility, being active in the community, or environmental responsibility as their top priority as a business owner. We call these – 'social entrepreneurs'.
Motivations for becoming an entrepreneur vary widely, and sustaining this is often crucial to longer term business success. It is therefore perhaps unsurprising that those who make social factors their top business priority are much more likely to do so because these align to their personal motivations for becoming entrepreneurs.
"Of course societal issues are very important to me, but at the same time they also seem natural to me," says Sandra Rey, founder of bioluminescent light company Glowee, which uses inspiration from nature to address environmental challenges such as light pollution. "I had an opportunity to work on an amazing project, which I could not step away from, so I decided to work on it to see what it could lead to," she says.
"The idea of Glowee initially started as a student competition project when I was at business school. I saw a video on deep oceans in which underwater fish and other organisms naturally emitted light, and applied this concept to the project. After winning the contest there was so much interest from the media, as well as from the industry – energy companies, architects and others were interested in learning how this technology could be applied in their industry," she explains.
"I did not plan to be an entrepreneur; I just got so excited about the idea that I needed to see it through!"
Sustainability and social responsibility are broad movements and can mean many things to di•fferent people. For Guillaume Gibault, founder of locally manufactured underwear company Le Slip Français, sustainability begins with a profitable business model: "It might sound surprising, but social responsibility means economic profitability to me.
If you do not have a profitable business model you cannot go to the next level, which is social and environmental responsibility.
Manufacturing in France is five to six times more expensive than elsewhere in the world, so we have to work hard to ensure we have a profitable and sustainable business."
Mr Gibault's path to entrepreneurship came about a little unusually: "I was 25 years old, working for a French retail chain that was selling organic products. I was interested in fashion and knew I wanted to stay in that space. I wanted to sell products of superior quality, rooted in made-in-France craftsmanship and savoir faire – to create a brand with both heritage and a modern outlook. A friend of mine told me that people would not buy underwear online and that I wouldn't be able to persuade them...so that is the reason why I started the company – I wanted to prove him wrong."
Question: As a business owner, please rank the following in terms of importance?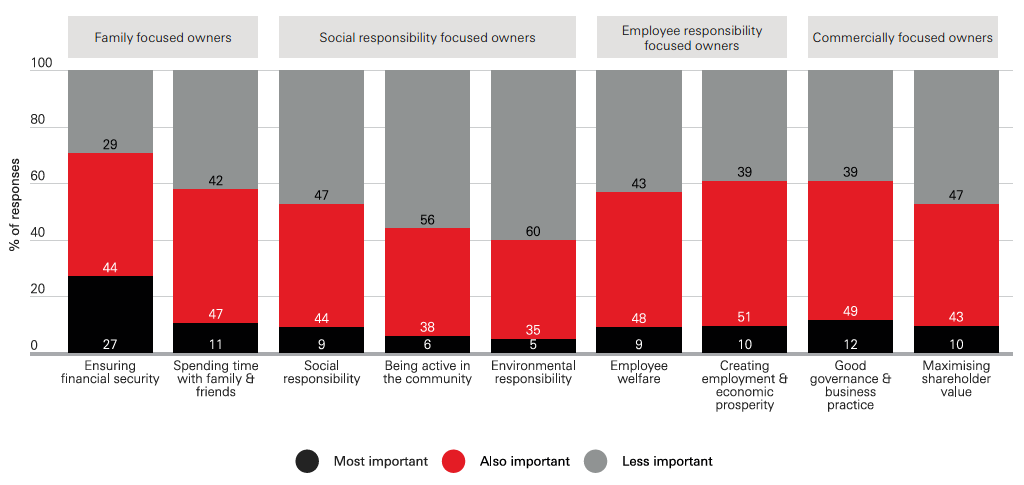 Fuelling vision to change the world

Social entrepreneurs (41%) are more likely than average (30%) to be motivated by the opportunity to create an impact; this includes environmental impact, community impact or building a name for themselves.
"If you want to change the world, you need to start with yourself," says Mr Gibault. "We wanted to show that it is possible and profitable to create jobs in France and to produce in France. It is also a very nice feeling to know that you can force bigger brands to embrace social responsibility and move into these areas. If a young start-up can do it – what is the excuse for bigger players?"
Ms Rey has similar feelings: "Glowee has always been about a long-term vision. You cannot think about impact only. You create social impact by understanding the business case."
This way of thinking manifests itself on many fronts, and across a myriad of their business and personal decisions. For example, at business inception stage, entrepreneurs who prioritise social impact are most likely to give gravitas to social and environmental concerns in their planning.
"At the time of setting up Le Slip, the internet was changing the way we work and how we do things, so I saw a lot of potential there. Instagram did not exist, Facebook was the main channel for us. The idea was to use online channels for sales and distribution. In order to do so, you need a really good story to share online. Before the 2012 presidential election campaign, there was a lot of debate in the media about the future of French industry and journalists were searching for entrepreneurs who produce in France. 'Made in France' proved to be a very valid idea – it did and still does resonate with the wider public."
When running their businesses, social entrepreneurs are also more likely to measure the extent of their day-to-day impact by using a broader set of metrics than the average entrepreneur. Aside from customer satisfaction and employee retention, for example, which are important metrics to all business owners – social entrepreneurs also consider factors such as media coverage, industry awards, and environmental, social and governance (ESG) reporting.
"The fashion industry has a big environmental impact so the challenge is to find better alternatives or produce things in a better way. Our focus has always been on superior craftsmanship and local production; social media enables us to take our customers behind the scenes. Thanks to social media, we can be very transparent about how we do things and show how our products are made," says Mr Gibault.
Ms Rey echoes these views on transparency and communication: "We show our stakeholders all the steps we are taking and explain why it's important. This is engaging for both the public and the organisations we work with, and evidences what we do."
Question: Thinking about your personal motivation, why did you become an entrepreneur/ business owner?

Aligning efforts on all fronts
A similar pattern can be seen on the 'giving' side, where social entrepreneurs' personal and business choices are most likely to lead to clearly defined impact outcomes. Like their counterparts, they are likely to have given time or money to support good causes in the last year (77% vs. 70% avg.). Unlike their counterparts however, who tend to make single donations to charitable causes, impact-focused entrepreneurs are most likely to be active in their community, contribute via strategic business decisions or through their personal investment choices with clearly defined social objectives.
"I feel that my work and personal life are really aligned," says Ms Rey. "This is a huge source of motivation and passion. Without passion you would not be able to go through so many challenges and hurdles."
Mr Gibault agrees: "Of course what we are trying to achieve personally and through our business is aligned, otherwise it would be very difficult. You need to believe in what you are doing. It is not just a claim or a nice statement to have on your website, you need to live with it – it needs to be rooted in your team and in the way you interact with others…The fashion industry is a very big industry in France, even bigger than the car industry. With our small company we showed everyone that we can improve the way we do things!"
Of course not every entrepreneur will start out with a sustainability agenda, yet it is encouraging to see that an increasing number are unfazed by today's complex challenges. Instead, business leaders use the gains from their economic success to foster positive social and environmental change in their communities, inspiring and encouraging others to join in their vision to change the world.
Question: Do you use any objective measures to assess the positive impact of your business?