Prenup vs. postnup: Which is right for you?
Thinking about a marriage potentially ending in divorce isn't always a pleasant task.
But, as divorce rates in England and Wales increase for the first time this decade1, it's important you take some necessary steps towards protecting your wealth for the future for both yourself and your children.
What are postnuptial agreements?

Divorce is an expensive business, both in regards to legal costs and pay-outs. Many wealthy individuals living in or originating from England and Wales counterbalance the risk of divorce by having a prenuptial agreement (prenup). But what if you didn't arrange a prenup before you and your spouse were married?
Increasingly, more and more married couples are choosing to create a postnuptial agreement (postnup).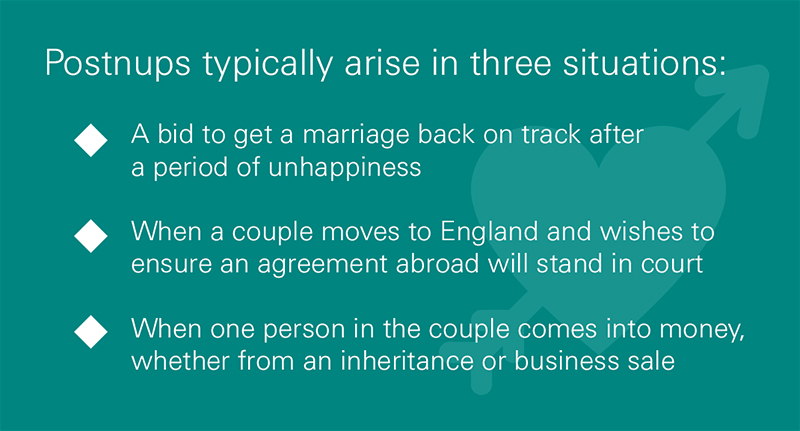 Getting a postnup isn't cheap, but this type of agreement is much cheaper than having to pay for legal fees should a divorce occur.
Similar to prenups, postnups aren't automatically binding under English law; however, like prenups, a postnup (if not found to be unfair) can insure against the costly and energy-sapping debate that can occur if divorce is imminent.
In fact, it is arguable that a postnup is an even stronger instrument than a prenup. Usually, it involves a party giving up existing rights. As long as each party's needs for housing and income can be met based on the provisions within the postnup, it ought to withstand any later assault on its fairness through the courts.
The benefit of a postnup
Along with peace of mind, creating a postnup gives you and your spouse the opportunity to create a bespoke solution to meet your particular circumstances. You will both need to provide financial disclosure, even in summary form, and will need to get your own independent legal advice.
Getting a postnup isn't cheap, but this type of agreement is much cheaper than having to pay for legal fees should a divorce occur.
Challenges you might face
Bringing up the topic of creating a postnup is a delicate business. It's typically easier when the couple is moving to England or if one person in the couple has received a significant inheritance.
In the circumstances of using a postnup to help get a marriage back on track, it's important that you and your spouse are on the same page emotionally and are committed to saving your marriage.
Rather than creating the agreement separately, you should consider getting legal advice first and opening up about finances before working out the best solution together. Then, have your lawyers document what you have agreed upon.
Why are prenups still important?
While postnups can go a long way towards protecting future wealth, you should still consider drafting a prenup before marriage. Whether you or your children are getting married, this agreement can help regulate how finances are to be divided upon divorce and, sometimes, death.

Like when creating a postnup, if you choose to have a prenup with your future spouse, you should make sure you are prepared. You should have independent legal advice in all relevant jurisdictions and be prepared to provide full financial disclosure. Also, ensure you have adequate time to consider the document before signing and that the document includes reasonably fair terms.
The Law Commission suggests that prenups ought to be signed at least 28 days before the wedding, and meet the needs of both parties.
Whatever your wealth planning needs may be, our Strategic Financial Planning Team can work with you to find a solution. To find out more about how HSBC can help, contact your Relationship Manager.
1Divorce rates increase for the first time this decade, The Telegraph, 2017 ↩
2Divorces in England and Wales, Office for National Statistics, 2016 ↩
3Divorce and marriage statistics, Ashfords, 2017 ↩