Inheritance Tax: how to prepare for future changes
With the existing Inheritance Tax (IHT) system currently under review, it's a good idea to be prepared for changes. Here, we discuss the areas that are currently under review and how you can plan for IHT.
The IHT system is considered complex, making it difficult to understand if you're planning for your estate's succession. That's why Philip Hammond, the Chancellor of the Exchequer recently requested that the Office of Tax Simplification (OTS) review the existing IHT system.
Whilst the OTS are still working on this review, we believe that the Autumn Statement will act as the platform for an announcement about proposed reforms. Until then, here is a look at the areas to be reviewed and how to prepare for IHT when your estate eventually passes to your beneficiaries.
What will the review cover?
The OTS confirmed in their scoping document1 that the review will cover a number of areas, including:
1. Administrative issues, such as submitting returns, compliance, disclosure and paying tax.
2. Gifting rules, including the annual threshold for gifts, small gifts and normal expenditure out of income. Also, their interaction with each other and the wider IHT framework.
3. The breadth and effect of any changes to taxpayers' decisions, investments, asset prices or the timing of transactions impacted by the IHT rules; relevant aspects of the taxation of trusts; and interactions with other taxes such as Capital Gains Tax.
How can you plan for IHT?
When the time comes to pass your estate onto your beneficiaries, it is likely you will want them to receive as much of your estate as possible. Research has found, though, that many families aren't successful in planning for their succession. That's where preparing for IHT comes into play.
Below, we consider various strategies available to you to minimise IHT.
Asset reduction
One of the most effective ways to reduce the value of an estate and its exposure to IHT is to gift assets. So long as the individual making the gift survives for seven years from the date the gift was made and receives no further benefit from it, it's not subject to IHT.
If the gift can be demonstrated to be from normal expenditure out of income and of a regular nature, it's (currently) immediately exempt.
Before gifting an asset, though, you should consider the following:
1. Capital Gains Tax (CGT) – any potential liability to CGT since the gifting of certain assets constitutes a disposal for CGT purposes. Prior to any gift being made, the CGT treatment should always be clarified with your tax advisor.
2. Confirmation – ensure there is no reservation of benefit when a gift is made. This means that you cannot continue to enjoy the benefit of an asset after you have gifted it. Doing so would render it within your estate for IHT purposes and will make the recipient potentially liable to CGT.
3. Control – should you prefer to retain a degree of control over the assets you gift, a Trust can be an effective alternative. Trusts can be used to ensure that family assets are not misused. They can also provide a degree of discretion as to how both future capital and income distributions are made. Trusts can be created either during your lifetime or through making the relevant provision in your will.
Advice should always be taken prior to transferring assets to a Trust during an individual's lifetime, since such a transfer may trigger the lifetime charge to IHT of 20 per cent.

Research has found that many families aren't successful in planning for their succession.
Asset freezing
For assets that are likely to increase significantly in value over time, such as real estate or equities, it's possible to ensure that future increases in value fall outside of your estate. The simplest example of asset freezing is a loan.
A loan freezes the value of the monies lent from the lender's estate and, provided the borrower invests the monies, any future capital growth would accrue outside the estate of the lender and within the estate of the borrower. To ensure that making the loan doesn't give rise to an IHT charge, the loan is usually expressed to be interest-free and repayable on demand. Specific tax advice must be taken before implementing this strategy.
This strategy can be effective should you believe that you have accrued sufficient wealth to provide for yourself, but are reluctant to part completely with a large part of your estate.

Asset Conversion
Asset conversion involves converting assets that don't qualify for any form of IHT relief into assets that do (ie. agricultural or business property). The intention of this is to reduce the value of the assets that are liable to IHT.
Certain assets that qualify for IHT relief can be transferred to vehicles such as Trusts without the usual lifetime charge to IHT (20 per cent). Advice should always be taken prior to transferring assets to a Trust.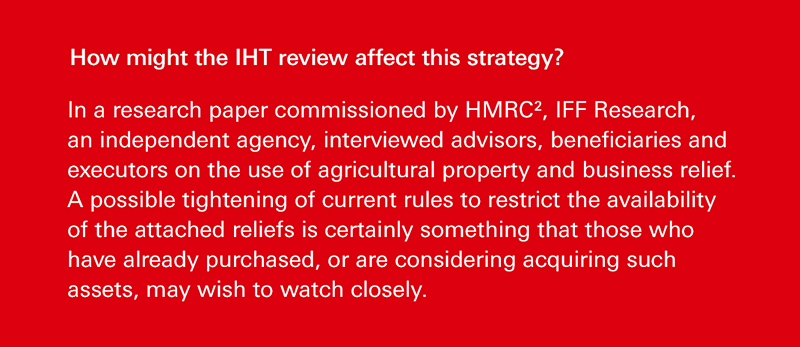 Insurance
If you are concerned about the impact of IHT on your estate, you may also wish to consider using life assurance as a means of providing your beneficiaries with funds to enable them to meet any IHT liability. Life assurance can also be used as a means of providing your selected beneficiaries with liquidity.
1IHT General Simplification Review Scoping Document, Office of Tax Simplification, 2018↩
2The influence of Inheritance Tax reliefs and exemptions on estate planning and inheritances, HMRC, November 2017