Prism is the foundation of our bespoke wealth management offering at HSBC Global Private Banking. We build and nurture a relationship with you and your family, combining the institutional market-leading technology of Aladdin Wealth with the far reaching capabilities of HSBC Group.

Your investments are a reflection of you: your drive, your aspirations, your legacy.
Our philosophy of investing reflects a carefully considered strategic asset allocation over the long-term. We regularly and consistently rebalance and reassess our views on each asset class, which provides you with the ability to optimise your exposure and take advantage of short to mid-term market opportunities.
Our Commitment
We offer a disciplined and robust investment approach, with you at the heart of the process. Our advisory relationship starts with understanding your investment goals and objectives and considers the level of risk you're comfortable with. Everyone's investment needs are different so you decide the level of engagement you need from us and we'll then support you in making informed decisions.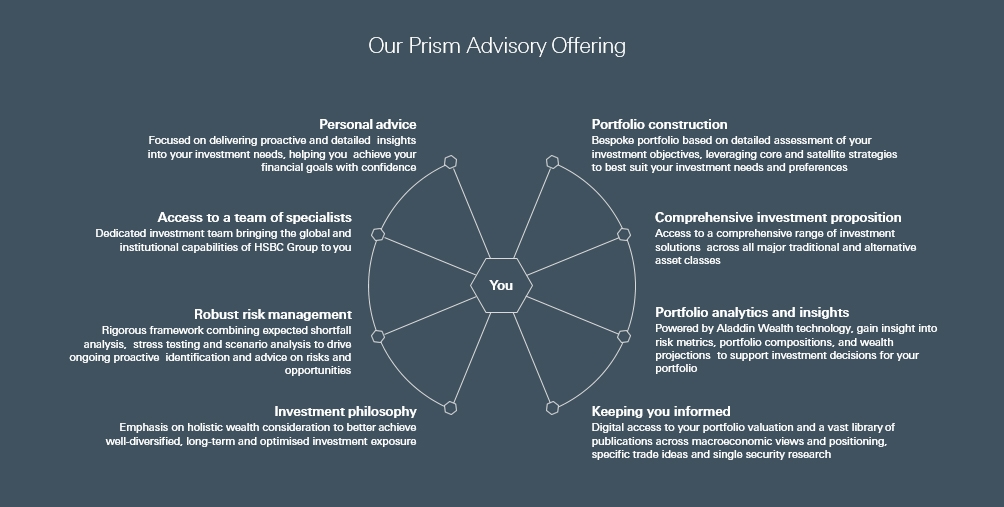 Our Strength
You'll receive expert advice to help meet your goal and objectives with the amount of interaction with an Investment Counsellor that suits you.
Hands On Expertise
International presence in and knowledge of key global markets
Invaluable understanding of global trends
A team of investment specialists for each asset class
Portfolio Advising
A robust investment approach to guide and help you manage your portfolio in a disciplined manner
Strategy and thematic ideas
Risk and return assessment
Connection to market opportunities and latest trends.
Portfolio Monitoring
Monitor your portfolio and make recommendations
Detailed portfolio risk analytics, brought to life through stress testing and historical simulations
A comprehensive view of the impacts on your portfolio, supporting you to make informed investment decisions.
Access to Research
Valuable insights and analysis from the HSBC Group through our online research platform.
Our Solution
Prism Advisory Services is a gateway to potential investment opportunities, research, market insights, monitoring and recommendations all designed to keep your portfolio on track. Alongside your dedicated Relationship Manager and Investment Counsellor, we'll surround you with specialists and views to help build a portfolio specifically aligned to your objectives.